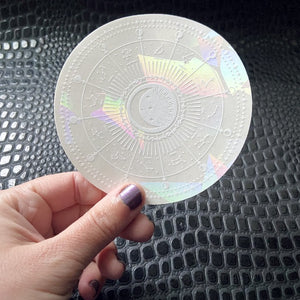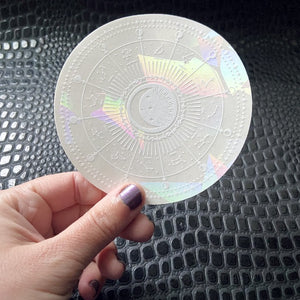 Zodiac wheel sun catcher rainbow maker sticker
Witchy zodiac astrolology wheel sun catcher rainbow maker sticker
 A perfectly witchy clear holographic sun catcher sticker with a central moon and zodiac wheel design depicting all the signs. It can easy be peeled off so you can put it on a window or door to create rainbow magic. It'll work just the same as a crystal prism.
These stickers can easily be peeled off. Please note: You will need DIRECT sunlight for rainbows to appear. The stronger the sunlight, the stronger the rainbow. When moving the decal, please be careful while handling. Fingerprints will be left if the adhesive is touched.
They measure 4" across.
Made by Little Viper Co in Astoria, Oregon.