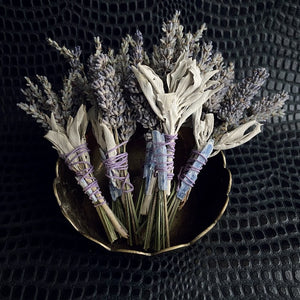 Mini lavender sage bundle herbal smoke wand
Mini Lavender Sage Kyanite Crystal Witchy Herbal Ritual Smoke Wand
 A small handmade bundle of lavender (from my garden) with a piece of white sage. Tied with light purple hemp cord and a blue kyanite crystal.
 Perfect for use in your rituals and for cleansing your space. (Never leave unattended while burning). 
Kyanite is a calming stone and can stimulate creative energy as well as aide in communication.
Each bundle and crystal will vary slightly in size.