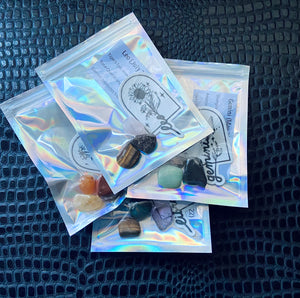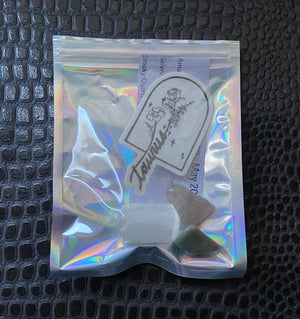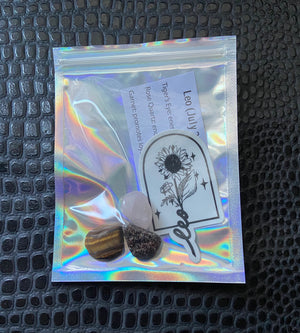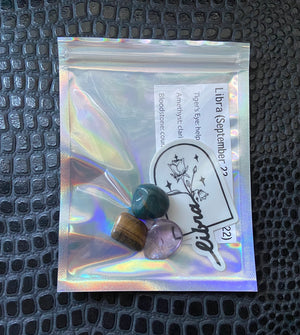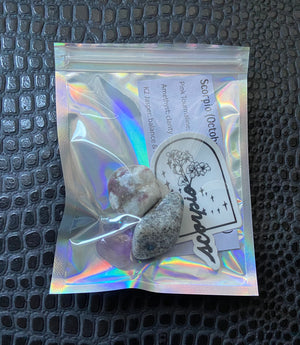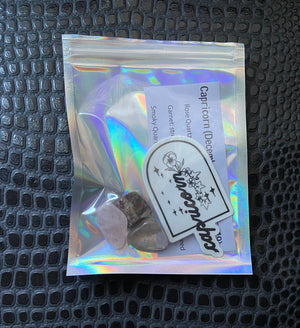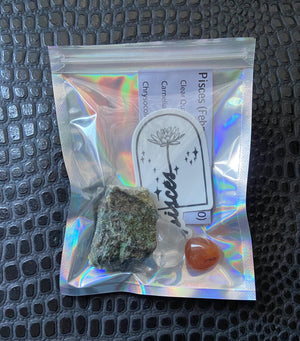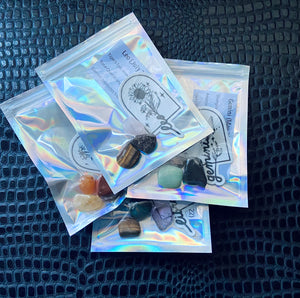 Zodiac crystal pack
Zodiac Sign Crystals and Sticker Gift Set
A set of three crystals chosen to be beneficial to each zodiac sign along with an information sheet listing the properties of each one. Each pack comes in a holographic pouch and is accompanied by a waterproof vinyl sticker by Big Moods (the stickers feature the corresponding flowers associated with the sign). 
Please note: Crystals will vary in size, color and shape from pack to pack.
 
Aries: (March 21 - April 19) Flowers: thistle & honeysuckle.

Red Jasper: vitality & prevents energy depletion
Carnelian: enhances passion & courage
Citrine: manifestation & abundance
Taurus (April 20 - May 20) Flowers: rose, poppy & foxglove.
Amazonite: calms the mind from unproductive thoughts   
Selenite: clarity & positivity
Smoky Quartz: grounding
 Gemini (May 21 - June 20) Flowers: lavender & lily of the valley.
Shungite: Reduces stress & enhances optimism   
Amazonite: quells anxiety 
Tiger's Eye: Balance
Cancer (June 21 - July 22) Flower: white rose.
Selenite: eliminates negative attachments to the aura 
Labradorite: enhances psychic intuition 
Red Jasper: emotional stamina & memory
Leo (July 22 - August 22) Flowers: marigold & sunflower.
Tiger's Eye: energetic support. Enhances creativity 
Rose Quartz: encourages self-acceptance
Garnet: promotes loyalty, strength & confidence 
Virgo (August 23 - September 22) Flower: buttercup.
Amazonite: creates balance/ connects inner & outer self
Amethyst: encourages light & positive energy 
Fluorite: promotes positivity  
Libra (September 23 - October 22) Flowers: bluebells & large rose.
Tiger's Eye: helps connect inner & outer self 
Amethyst: clarity & spiritual guidance 
Bloodstone: courage, bravery & decisiveness  
Scorpio (October 23 -  November 21) Flower: geranium.
Pink Tourmaline: encourages gentle & soothing energy
Amethyst: clarity & spiritual guidance 
K2 Jasper: balance & harmony
Sagitarius (November 22 - December 21) Flower: carnation.
Lepidolite: balance & encourages stillness 
Smoky Quartz: positve energy 
Shungite: reduces stress & promotes grounding
Capricorn (December 22 - January 19) Flowers: pansy & ivy.
Rose Quartz: self love & reduces stress
Garnet: strength, courage & confidence to succeed 
Smoky Quartz: grounding  
Aquarius (January 20 - February 18) Flower: orchid.
Lepidolite: alleviates stress & clears emotional blockages 
Amethyst: intuition & spiritual guidance 
Tourmalinated Quartz: harmony 
Pisces (February 19 - March 20) Flower: water lily.
Clear Quartz: Cleanses & purifies energy 
Carnelian: enhances creativity
Chrysocolla: encourages self- expression