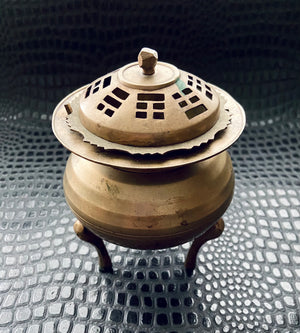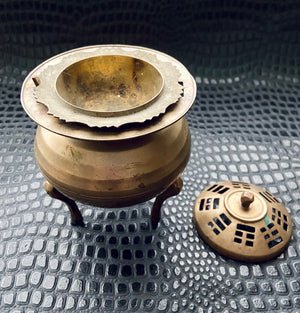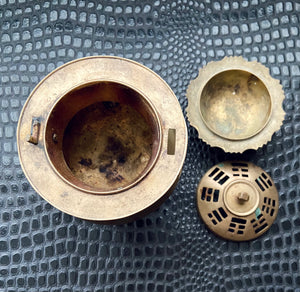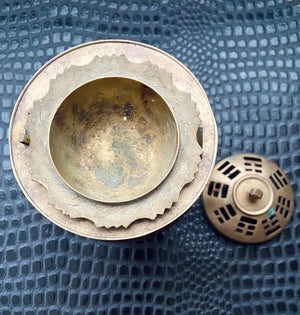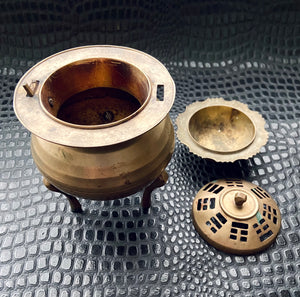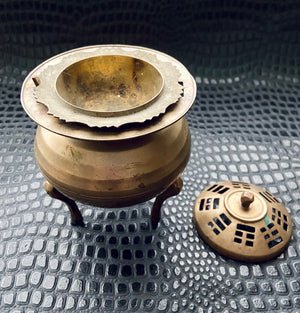 Vintage tall round brass incense burner
Vintage Tall Round Brass Incense Burner
An unusual and interesting vintage brass incense burner. It is tall with a round body, standing on three legs and is comprised of three pieces. It has a perforated lid that lifts off to reveal a shallow dish. The dish is perfect for burning cone incense. You also have the option to remove the shallow dish and burn loose incense in the bottom of the main larger burner. I'm not sure if all three pieces originally came together but this is how I found them and they work great together! 
It measures 5" tall and 3.75" across.
Condition: A couple verdigris spots on the lid and dark spots (signs of previous use inside both bowls). Some dark spots on the outside body of the main incense burner. The main incense burner may have had a handle at some point as there is a small piece of metal sticking up just on one side of the top portion.