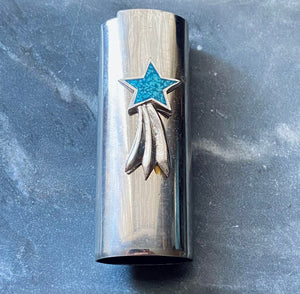 Vintage lighter cover
Vintage Lighter Cover Smoking Accessory
A vintage silver toned lighter cover in your choice of design: Snake, Horseshoe or Shooting Star. Each design is done with turquoise chips.
Sold individually.
(You don't have to be a smoker to enjoy these cool lighter covers- I use one to make lighting candles and palo santo feel extra special).
They measure 2.75" tall and 1" across. Will fit a standard size Bic lighter.