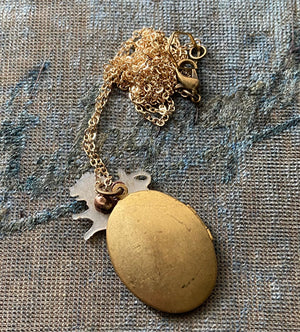 Vintage brass locket necklace with antique mother of pearl lion
Vintage Oval Brass Locket Necklace with Antique Victorian Mother of Pearl Lion Charm Zodiac Astrology Jewelry
This necklace was made using a combination of new, vintage and antique materials. It features a vintage brass oval locket with an antique Victorian era mother of pearl lion charm that was converted from a stick pin. It comes on a new long gold-filled chain that is finished with an antiqued brass (over copper) lobster clasp and brass hexagon loop. It would be perfect for someone born under the zodiac sign of leo!
Leos are born between July 23 - August 22
The locket measures 1.25" long and 1" across. The lion measures 1" long and .75" tall. The chain is 31" long.