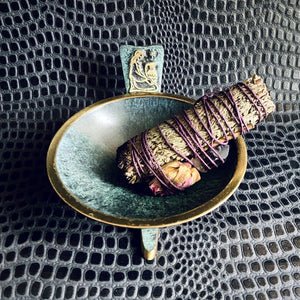 Vintage aquarius bowl
Vintage Aquarius Green Metal Bowl
A vintage black and dark green metal footed bowl with a gold rim and an interesting accent at the back with Aquarian imagery. It features a seated woman with a vase and star- the classic water bearer design. The bottom is marked made in Isreal.
It measures 5.25" across, 6" long and 3.5" tall.
Aquarians are born between January 20 - February 18.