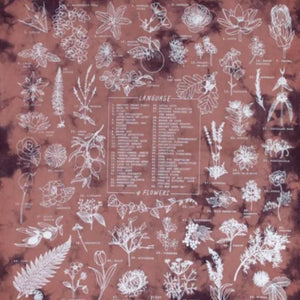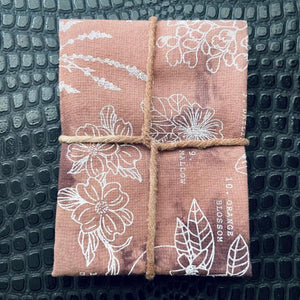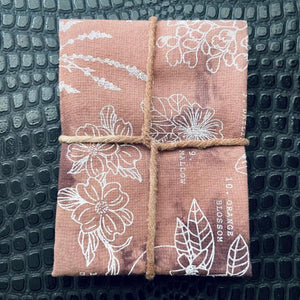 The language of flowers bandana / altar cloth
Handmade Language of Flowers Plant Dyed Bandana or Altar Cloth
The Victorians may have written dictionaries on the Language of Flowers, but flowers have spoken to humans and cultures since time immemorial. Flowers and herbs were carried as lucky talismans by Aztec warriors, mixed into heart tonics by medieval doctors, and made into love potions passed on through the ages from the Middle East to Eastern Europe. This bandana is an ode to flora and their many meanings, reflected here as artistic muse and medium all in one! This bandana may be worn, hung on the wall as art, or used as a decorative altar cloth.
Dyed with plants, printed on buttery soft 100% cotton, and made by hand in California by Berbo Studio.
Plant and mineral dyes: local pomegranate, fresh logwood, quebracho rojo + iron. Printed with white ink
It measures approx. 21" x 21"
Each bandana is folded and packaged with info card/care instructions, and secured with coordinating plant-dyed twine.