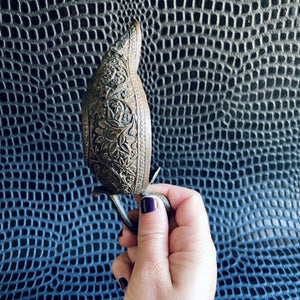 Antique snake candle holder
Antique Snake Candleholder Witchy Decor
This antique candle holder is mysteriously beautiful with super ornate patterning all around and a snake handle. It's made of copper which has darkened perfectly with age.
It measures 5.5" long, 2.5" across and 2" tall. The candle opening is .75"
I found this piece at a flea market in Rhode Island and the person I bought it from told me they dug it out of the ground on their travels in the Middle East. I couldn't tell you if this is true or not but I'd say it's a solid maybe!