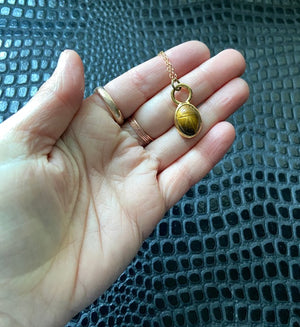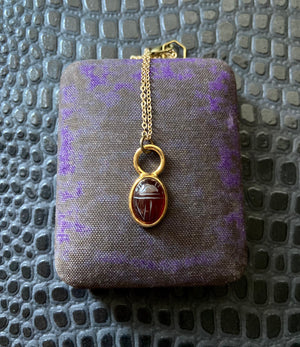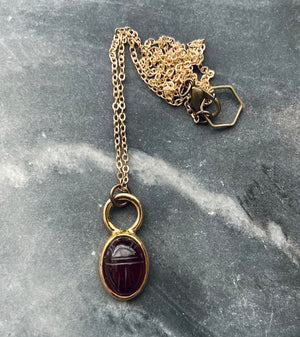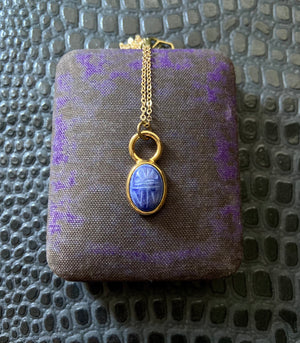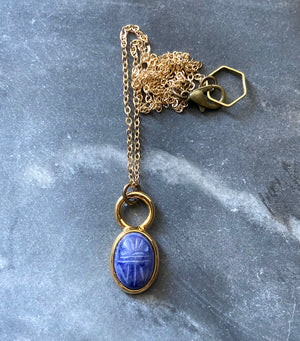 Stone scarab charm necklace
Handmade Reclaimed Vintage Scarab Beetle Charm Necklace Black Onyx Tiger's Eye Lapis Carnelian
This necklace was handmade using a combination of new and vintage materials. It features a vintage gold plated carved stone scarab charm in your choice of black onyx, tiger's eye, lapis or carnelian. The setting on the charm is open in the back and the stones have some etchings on the back as well. It is on a new gold-filled chain which is finished with a brass (over copper) lobster clasp and brass hexagon loop.

The charm measures 1" tall (from the top of the loop) and the chain is 18".

You will receive one necklace in the stone of your choice. Stone color may vary slightly.

The scarab is a symbol of rebirth, transformation and protection.

Black onyx is a protection stone and is believed to promote strength during difficult times.

Tiger's Eye is a protection stone believed to promote courage and good luck.

Lapis is a stone that encourages self expression, honesty, compassion and creativity.

Carnelian is believed to promote health and vitality as well as aid in motivation.