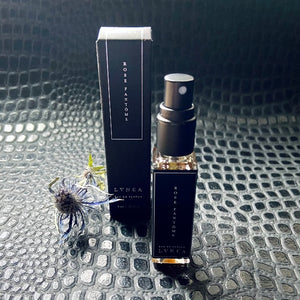 Rose fantôme eau de parfum
Lvnea perfume rose fantome eau de parfum rose, immortelle, cèpes
The scent of ruptured longing, refoulé into the mossy ground and captured by the abandoned rose.
Inspired by the Cimetière du Père Lachaise in Paris and its moss-covered stone and porcelain grave adornments, Rose Fantôme breathes not the fresh blooming rose but the one that has been cut, left and forgotten. Now one with its surroundings, it blends with the scents of dried grass and lichen, hay, and dirt.

An earthy and agrestic floral, a specter of its originary softness still remains.

Featured notes: porcelain roses · fallen leaves · moss · cèpes · immortelle · hay
Aspects: earthy, agrestic, sophisticated floral.

Ingredients: pure alcohol, essential oils, plant extracts, floral hydrosols. 

Packaged in an 8ml clear glass bottle with an atomizer spray top.
Handmade by Lvnea Perfume in Canada.