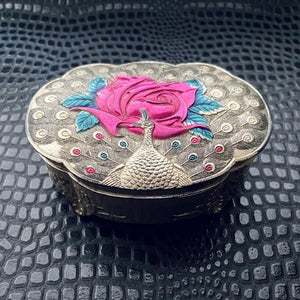 Vintage peacock container
Vintage Metal Peacock Jewelry Box
This amazing vintage metal box from the 1940's features a peacock and a vibrant pink rose with green accents. There are floral details on the sides by the feet and inside is lined with a hot pink fabric (in excellent condition). It'd make a fabulous jewelry box!
The bottom is marked Made in Japan.
It measures 5.25" long, 4" across and 2" tall.