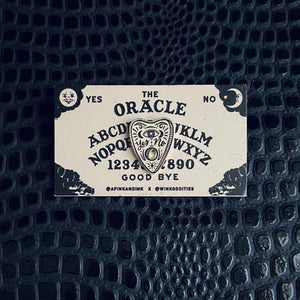 Ouija planchette enamel pin
Witchy Ouija Board Planchette Enamel Pin
This witchy enameled ouija planchette pin is by Ink & Fink. It features an all seeing eye and the classic yes/ no prompts in a shiny gold finish. Each pin comes with an illustrated backing card with a talking board design and a black rubber pin-back.
It measures 1.25" tall.
I have so many fond memories of playing with a ouija board as a child in the 80's (If you cheated and moved the planchette you know who you are!).