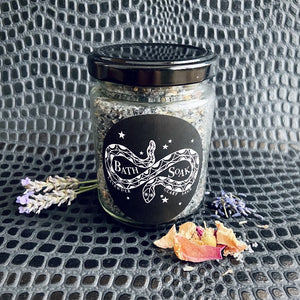 Lavender and sage bath salt soak jar
Handmade Lavender And Sage Black Salt Bath Soak
These bath salts  were made in house with natural ingredients for a soothing, luxurious soak. Made from epsom salt and black lava salt with dried flowers and scented with lavender and clary sage essential oils. 
Packaged in an 8oz glass jar. 
Ingredients: Epsom salt, black lava salt (sea salt infused with activated charcoal), lavender essential oil, clary sage essential oil, dried lavender flowers, dried chamomile flowers, dried rose petals, peg-7 glyceryl cocoate (glycerin and coconut oil emulsifier).