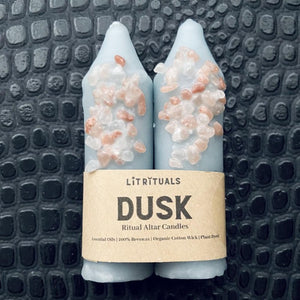 Dusk beeswax and salt altar candles
Witchy Handmade Plant Dyed Beeswax Dusk Altar Candles With Salt
These altar candles by Lit Rituals are made with 100% beeswax and dyed with indigo. Topped with Himalayan salt, you can burn these unscented candles when you need a dose of purifying energy in your home. 
Made with cotton wicks and sold in bundles of two.
They measures approx. 4.75" tall and 1" wide.
Please note: Since they are made with natural dyes they do best out of direct sunlight, to ensure their beautiful color doesn't fade.