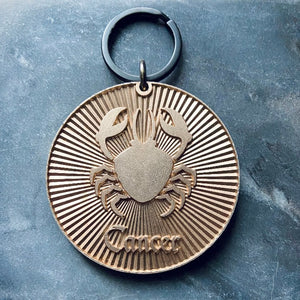 Cancer keychain
Vintage Cancer Crab Zodiac Sign Astrology Keychain
This keychain was handmade using a combination of new and vintage materials. It features a large gold toned cancer charm on a black coated 1" split keyring. The charm depicts the classic crab image on the front with a sunburst texture.
It measures 3" long from the top of the key ring. The charm is 2.25" across.
Cancers are born between June 21 - July 22.