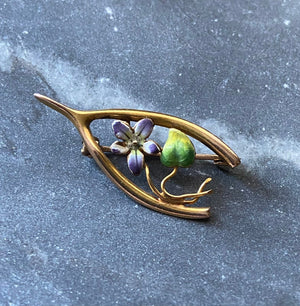 Antique victorian 10k gold floral wishbone brooch
Antique Victorian 10K Gold Enamel Floral Wishbone Brooch Pin Good Luck Jewelry
The sweetest antique Victorian era 10k gold brooch in the shape of a wishbone. It has a charming single flower in the center (which  is perhaps supposed to be a forget me not). The flower is enameled in shades of pale purple and white with a yellowy green leaf. It has a c clasp. The clasp is marked 10K. It's sure to bring you all the good luck!
It measures 1.25" long and just over .5" across.
Condition: Some minor enamel wear on a petals of the flower. Patina on the back of the brooch especially at the solder points. The sides of the wishbone are not totally straight and may have been bent ever so slightly at one point (though this is barely noticeable).