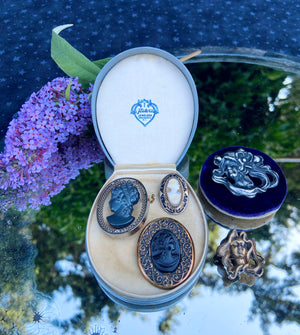 Antique art nouveau maiden brooch
Antique Art Nouveau Silver Maiden Brooch
This antique brooch features the head of a woman with flowers in her swirled hair, done in the classic Art Nouveau style. It's a nice large, statement sized piece. 
The back is a c-clasp and is marked Silver top.
It measures 1.75" across and 1.5" tall.
Condition: darkened patina from age and some wear to the finish on the back.
This beauty was found while antiquing in Corvallis, Oregon.