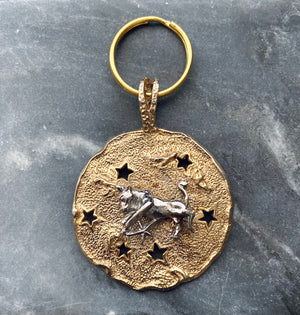 Vintage taurus keychain
Vintage Taurus Zodiac Astrology Keychain
An extra large vintage mixed metal zodiac keychain. It features a gold plated circular charm with a silver toned bull for the sign of Taurus and cut out stars. The back is signed Lisa and has the symbols for all the star signs. It is on a 1" gold plated split key ring.
It measures 3.25" tall (to the top of the key ring) and 2" across.
Capricorns are born between December 22 - January 20.