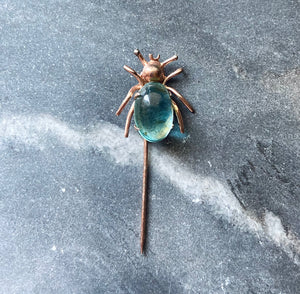 Vintage spider stick pin
Vintage Aqua Jelly Belly Spider Insect Stick Pin 
A charming a vibrant petite vintage rose gold plated spider jelly belly stick pin. The spider's body is a clear plastic aqua cabochon. It would be the perfect addition to a hat! I believe it was made some time in the 1950's.
It measures just shy of 1.75" tall and just shy of .75" across.
Condition: minor plating wear.
This gem was unearthed at an estate sale in Portland, Oregon.