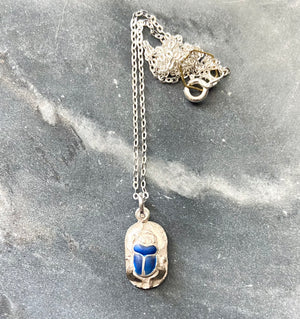 Vintage silver scarab charm necklace
Vintage Silver Enameled Scarab Charm Necklace
This necklace was handmade using a combination of new and vintage materials. It features a vintage petite silver scarab charm. The charm is a raised design where the scarab sits up off the base. It has blue enameling on the body and hieroglyphs on the back. It is on a new sterling silver chain that is finished with a silver spirng clasp and a brass hexagon loop.
The scarab is a symbol of rebirth, transformation and protection.
The charm measures .75" long and just shy of .5" across. The chain is 18" long.