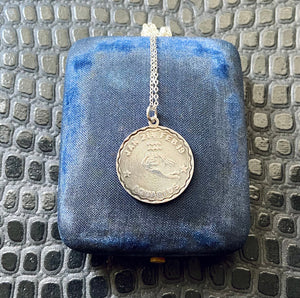 Vintage silver aquarius charm necklace
Vintage Silver Aquarius Charm Necklace Zodiac Astrology Jewelry
This necklace was handmade using a combination of new and vintage materials. It features a vintage sterling silver Aquarius charm. The charm depicts the classic water bearer imagery of a woman with a water jug, stars and the birth dates for those born under the zodiac sign of Aquarius. I believe the charm was likely made sometime around the 1970's. It comes on a new sterling silver chain that is finished with an antiqued brass (over copper) lobster clasp and brass hexagon loop.
The charm measures 1" long and 1" across. The chain is 18" long.
Aquarius are born January 21 - February 19.