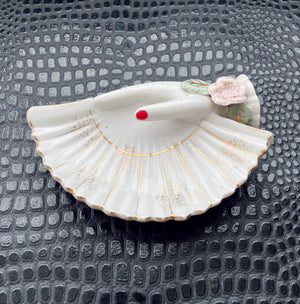 Vintage porcelain fan hand dish
Vintage Porcelain Painted Hand Holding Fan Ring Jewelry Dish
A super sweet vintage porcelain dish in the shape of a hand holding a fan. The nails are painted red (ooh la la!) with a pink and green floral accent on the cuff and gold leaf details on the fan. It would make a lovely ring dish to hold some of your favorite jewels. 
It measures 5.25" long, 3.25" across and 1" tall.
Condition: One tiny flea bite chip on the corner of one of the flower petals.