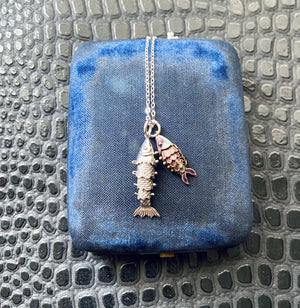 Vintage pisces fish charm necklace
Vintage Double Fish Charm Necklace Pisces Zodiac Sign Jewelry
This necklace was handmade using a combination of new and vintage materials. It features two vintage articulated fish charms. One is silver-toned and the other is silver and enameled in aqua and purple tones. It is on a new sterling silver chain that is finished with an antiqued brass (over copper) lobster clasp and a brass hexagon loop.
Pisces are born between Feb 19- March 20.
The larger fish measures just over 1" long and the smaller enameled one measures just over .75" long. The chain is 18" long.