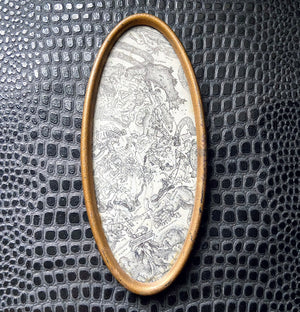 Vintage oval zodiac print frame
Vintage Oval Frame with Zodiac Astrology Art Print
A vintage 1940's era gold painted metal oval frame with glass covering. The frame comes with a vintage black and white constellation print featuring some of the signs of the zodiac (aquarius, capricorn, sagitarius and scorpio). It has a carboard backing with fold over tabs. This style frame is best propped up unless you wanted to add hanging hardware.
It measures 7.5" tall and 3.5" across.
Condition: Some paint wear. Light staining to the cardboard backing.