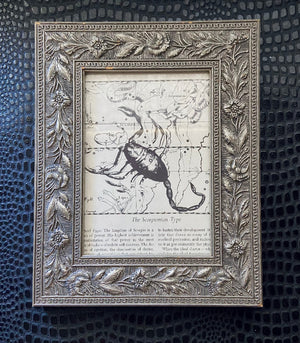 Vintage floral scorpio print frame
Vintage Floral Wooden Frame Scorpio Zodiac Sign Print Frame
 A vintage wooden frame with a raised floral decorative design that has been painted in a warm metallic silver. It has a glass covering and comes with a vintage black and white Scorpio print from an old astrology book. It depicts the constellations with a large central scorpion. It could be hung or propped up. I believe the frame was likely made sometime around the 1930's.
It measures 10" long and 8" across. The picture area is 7" long and 4.5" across.
Condition: A handful of small spots of paint loss and scuffing to the wood. The cardboard backing has one spot where the paper was torn.