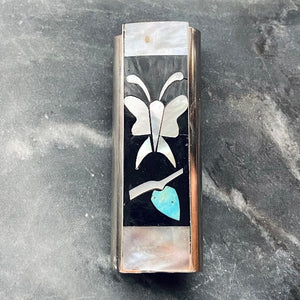 Vintage Butterfly And Branch Shell Inlay Lighter Cover
Vintage Butterfly And Branch Shell Enamel Turquoise Inlay Lighter Cover Smoking Accessory
A beautiful vintage silver toned lighter cover with black enamel and a mother of pearl inlay butterfly and a turquoise leaf. I believe it was likely made sometime in the 1970's.
(You don't have to be a smoker to enjoy these cool lighter covers- I use one to make lighting candles and palo santo feel extra special).
It measures 2.75" tall and .75" across. It will fit a standard size Bic lighter.