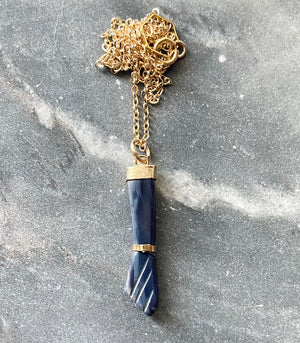 Vintage blue agate figa charm necklace
Vintage Blue Agate Carved Stone Mano Figa Charm Necklace Protection Good Luck Talisman Jewelry
This necklace was made using a combination of new and vintage materials. It features a vintage blue agate carved stone mano figa pendant with gold plated accents. It has a band around the wrist to make it look like the hand is wearing a bracelet and is a lovely shade of dark blue with some lighter striations visible along the side. I believe it was likely made sometime in the 1970's. It comes on a new gold-filled chain that is finished with a gold-filled spring clasp and a brass hexagon loop.
Once seen as a slightly obscene gesture, the mano (hand) figa (fig) has also been used like an evil eye as a symbol of protection or good luck.
Blue agate is believed to help calm the nerves, protect from evil spirits and lift your spirits.
The charm measures just shy of 1.5" long and just over .25" across. The chain is 18" long.