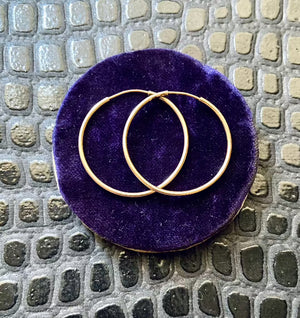 Vintage 10k gold thin hoop earrings
Vintage 10K Gold Thin Round Classic Hoop Earrings
A classic pair of thin, lightweight 10k gold round hoop earrings. A perfect piece of every day jewelry! The wires hook securely into the back of the hoop.

They measure just over 1" tall and just over 1" across.
Condition: One has the tiniest slit on the back end of the hoop where the wire goes through (this is barely noticeable and doesn't affect the functionality).