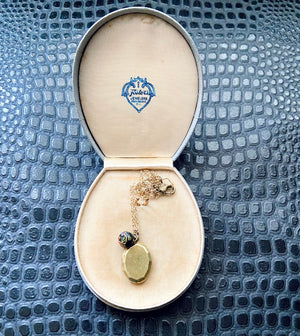 Small vintage brass locket with antique button charm
Small Oval Vintage Brass Photo Locket Necklace with Antique Victorian Button Charm
This necklace was made using a combination of new, vintage and antique materials. It features a vintage brass oval locket with beveled edges and an antique Art Deco era painted metal button accent charm. The button is painted in shades of black, red, green and purple. It comes on a new gold-filled chain that is finished with an antiqued brass (over copper) lobster clasp and brass hexagon loop.
The locket measures 1" long and just shy of .75" across. The chain is 18" long.
Condition: Some paint wear on the button. Light scuffing on the locket.