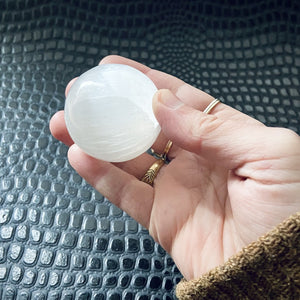 Selenite crystal ball
Magical Selenite Crystal Ball
A magical, iridescent polished selenite crystal ball. It'd make a great addition to your crystal collection!
Selenite is believed to help with mental clarity, clear negative energy, help increase intuition and promote honesty. Selenite is also used for cleansing and charging other crystals.
They measure 1.5"
Each one is slightly unique, I promise to pick you a good one!
(Stand not included).