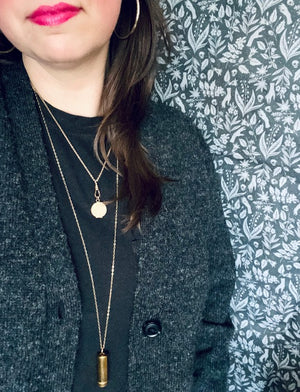 Secret Cigarette Holder Necklace
This necklace was handmade using a combination of new and vintage materials... and is full of surprises! On the surface it looks like a sleek minimal piece but it opens up to reveal a secret telescoping cigarette/ joint holder! I can guarantee all your friends will be jealous! 
The vintage container charm is gold toned and marked 'Scope on the bottom. The bottom can be pulled off to open it up. Inside the cigarette holder is nice and small but extends out so that it is full size. It's also gold toned with a black plastic tip mouthpiece. It's on a new gold-filled chain finished with a gold-filled spring clasp and a brass hexagon loop.
The chain measures 32" long. The container is 1.25" long and the cigarette holder when extended measures just shy of 3" long. The opening of the cigarette holder is 1cm.
Condition: scuffing on both sides of the tip.