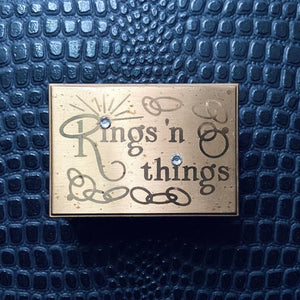 Vintage rings n things box
Vintage Rings N Things Jewelry Box Home Decor
I'm not sure if it gets any cuter than this vintage novelty jewelry box. This brass "rings 'n things" box has a couple of clear rhinestones, a ring design, little brass feet and is lined with perfectly worn burgundy velvet. Perfect for keeping rings and other small jewelry items.
Measures 3" long, 2.5" wide and 1" tall 
This gem was found on a treasure hunting trip at the Washington Coast.