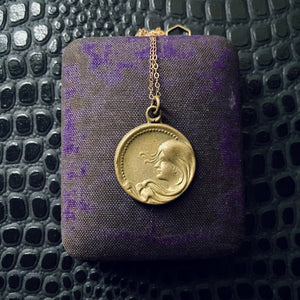 Art Nouveau Charm Necklace
Antique Art Nouveau Charm Necklace
This necklace was handmade using a combination of new and antique materials. It features and antique Art Nouveau era brass charm with a dotted border and the profile of a woman's face with long flowing hair. It is on a new gold-filled chain which is finished with a brass (over copper) lobster clasp and a brass hexagon loop.
The charm measures 1" across and 1" tall. The chain is 18" long.
Condition: There is one spot on the bottom of the charm that has a slightly raised, bumpy texture (it has been filed so that it isn't rough). There is some slight verdigris patina on the back.