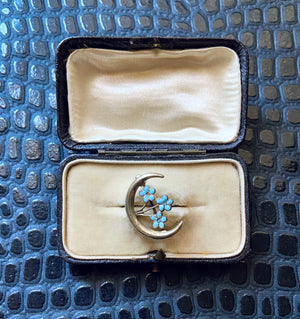 Antique Victorian forget me not floral moon brooch
Antique Victorian Gold Plated Crescent Moon Brooch Pin Enamel Forget Me Not Flowers
The sweetest antique Victorian era gold plated brass crescent moon brooch with three central forget me not flowers accented in baby blue enamel. It has a c-style clasp.
The crescent moon represents change, as the moon has multiple lunar phases. The forget me not flower was a popular motif in Victorian jewelry worn in remembrance of someone special or as a symbol of true love and devotion.
It measures 1" long and just shy of .75" across.
Condition: Some plating wear along the outside edge of the moon and on the back.