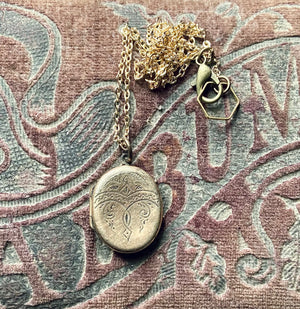 Antique Victorian decorative gold filled locket necklace
Antique Victorian Decorative Gold Filled Locket Necklace
This necklace was handmade using a combination of new and antique materials. It features an antique Victorian era oval shaped gold filled locket. The locket has lovely decorative details on both the front and the back. It is on a new gold-filled chain that is finished with an antiqued brass (over copper) lobster clasp and a brass hexagon loop.
The locket measures .75" tall and just shy of .75" across. The chain is 18" long.
Condition: Some metal wear to the locket with lots of patina especially on the inside.