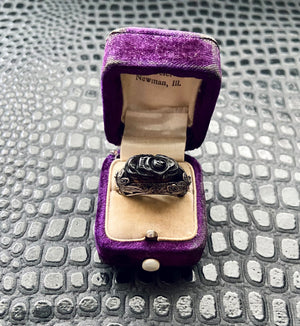 Antique silver filigree carved stone ring
Antique Silver Filigree Carved Brown Stone Ring Chinese Export Jewelry
An intriguing antique silver filigree ring with a high setting featuring a carved brown stone in the center (possibly smoky quartz or brown obsidian). The sides of the ring feature filigree lily pads with a subtle raised frog sitting atop the pad. The band of the ring is adjustable. I believe it was likely a Chinese export piece from sometime around the 1930's.
Adjustable. It's currently a size 6 (would be best for a size 5-8).
Condition: tarnishing on the back sides of the band. In the center of the filigree on one side it looks like the leaves used to be soldered at a central point and they are no longer but this does not affect the stability or integrity of the ring.