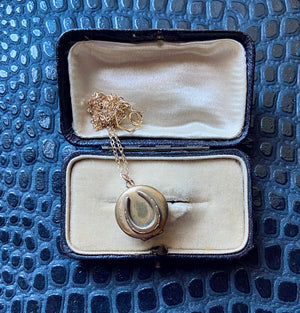 Antique horseshoe locket necklace
Antique Victorian Horseshoe Locket Necklace
This necklace was made using a combination of new and antique materials. It features an antique round brass Victorian era locket with a horseshoe on the front. The locket still has both metal frames and both protective plastic coverings on the inside. It comes on a new gold-filled chain that is finished with a gold-filled spring clasp and brass hexagon loop.
The locket measures .75" long and .75" across. The chain is 18" long.
Condition: Patina consistent with age.