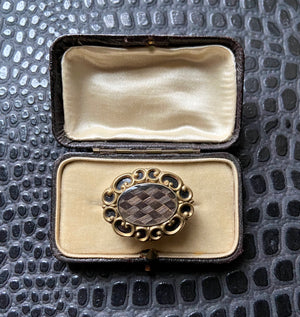 Antique Victorian Hair Mourning Brooch
Antique Victorian Hair Mourning Brooch Pin Jewelry
A charming antique Victorian era gold-filled mourning brooch with a swirled border design done in black enamel and an oval center featuring woven dark brown hair under glass. It has a c-style clasp as well as a loop should you prefer to wear it as a pendant.
It measures 1.25" across and 1" tall.
Condition: Some minor surface scuffs to the glass. Some metal wear on the back. The back clasp is starting to separate by the hinge and should be handled with care. 
This beauty was found at an antique show in Portland, Oregon.