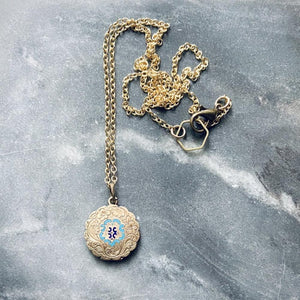 Victorian enamel mourning locket necklace
Handmade Antique Victorian Enamel Mourning Locket Necklace 
This necklace features an incredible antique gold filled mourning locket with blue enamel details on one side. The chain is gold filled and is finished with an antiqued brass plated lobster clasp and a brass hexagon loop.
When I found it I didn't open it up right away and was delighted to find a surprise inside... one side is engraved "Little Anna" and the other side holds a faded tin type photo of Anna herself. The photo only reveals itself when tilted in certain light which gives it a charmingly spooky affect.
The locket measures .75" and the chain measures 18" long.