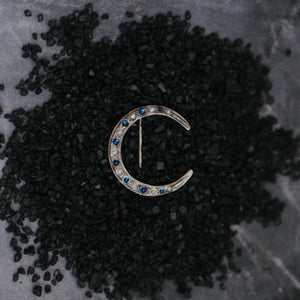 Antique crescent moon brooch
Antique Witchy Silver Crescent Moon Brooch
This antique sterling silver crescent moon brooch is a celestial dream! It has tiny seed pearls and vibrant sapphire blue paste stones with a c clasp back. It's nice and lightweight and extra witchy. I believe it was likely made some time around the 1920's.
Measures just shy of 1" tall and .75" across.
This gem was unearthed at a flea market on the East Coast.