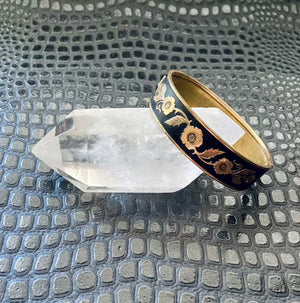 Antique black floral bangle bracelet
Antique Victorian Gold Plated Gold Filled Black Floral Hinged Bangle Bracelet
A gorgeous antique Victorian era oval shaped bangle bracelet with black enamel and decorative floral accents. It is hinged for ease of taking on and off and has a safety chain for added security. Inside is marked Marathon. It appears to be gold-filled with a gold washed clasp.
The bracelet is .75" wide. The inside opening measures 2.5" across and 2.25" tall (when opened it extends to 2.75" across and 3" tall).
Condition: some metal wear on the inside and plating wear on the inside of the clasp. Some enamel wear (more so near the clasp). A circular wear spot on the enamel near the hinge.